Rogers and Fido will unlock your device for $50, provided that you pay retail for it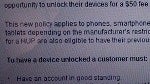 First it was Telus that announced it will unlock your device for use on other networks for a fee, now the other big Canadian carriers are introducing
fee-based unlocking,
starting yesterday. Rogers and Fido will unlock any device you might have on their networks for $50, but your account has to be in good standing, and you must pay the unsubsidized price for your device at least 30 days before the unlocking request.
The deal is valid both for new customers, contract or prepaid, or existing customers. Users with current contracts can have their previous phones, smartphones, tablets or "rocket sticks" (that's precisely the term used) unlocked, but, as mentioned above, they still have to pay the full retail price for the gear 30 days upfront. With this setup, we suspect that the "existing customers" are more likely to get their unlock codes for a few bucks from the hundreds of unlocking sites or Ebay, rather than Rogers or Fido, but it's nice to know the carriers are acknowledging the trend.
source:
Mobilesyrup