RIM video shows a day using NFC on your BlackBerry
5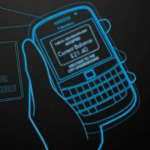 BlackBerry devices are known for
not having some of the features
that Android and Apple iPhone users take for granted. Current 'Berry models do not have front-facing cameras, for instance. They do not have a YouTube client (current models have a direct link to the mobile YouTube website) and BlackBerry App World is well behind the Apple App Store and the Android Market. But one feature that RIM has embraced is
NFC technology
.
NFC, or Near Field Communications allows a mobile device to open a line of communications with another device or anything else that has the technology similarly embedded. It is the technology behind many mobile payment systems and RIM stated last year that
all of its new devices would come with NFC embedded
.
To show you what NFC can do for you in a normal day, RIM has
created this animated video
, "A day with BlackBerry using NFC" which shows how your NFC enabled 'Berry can help you get tickets to that big sporting event by touching the phone to the poster. The tickets are automatically paid for and are kept on your handset. Your BlackBerry then allows you entry to your office building using NFC. After you use the NFC technology on your phone to help you log on to your computer, the next step is to put lunch on your credit card which has been set u to pay for NFC relatyed mobile payments.
Tap your BlackBerry with another person's BlackBerry to
exchange business cards
, and then it is off to the Stadium for that big match, where you enter by swiping your phone in front of the NFC reader by the turnstiles. Thirsty? Buy a drink from the vending machine using the NFC technology on your BlackBerry. After the game,
it is off to a nearby bar where you accidentally lose the next prototype Apple iPhone
it is lights out after such a long day which has been made easier thanks to NFC support and your BlackBerry 7 OS handset.
And if you are wondering about the announcer's accent, the use of the British Pound on the monetary examples and the reference to what is obviously a soccer match, this video was made by the U.K. arm of BlackBerry. Still, the main ideas still apply for BlackBerry users around the planet.
source: RIM via
BlackBerryOS