RIM going forward in producing a non-camera version of the Bold 9000?
This article contains unofficial information.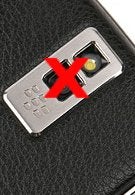 With well over a year under its belt, the BlackBerry Bold 9000 has been one of the profound handsets offered by RIM that showcased their reinvention – both from a design and interface perspective. If there's one move that really will scratch your head, it has to be rumors about RIM going forward with producing a non-camera version of the aging smartphone. We all know that there is a business demand for that kind of feature, but it's more shocking to see it happen to an older device, as opposed to newer ones like the Tour or Bold 9700. Even more disturbing is that some carriers are looking to phase out the current handset with a camera off their lineup in order to get users into the streamlined BlackBerry Bold 9700. It'd be more understandable if RIM decides to do that on newer handsets – we'll see RIM will go forward with this unusual business move.
RIM BlackBerry Bold 9000 Specifications
|
Review
source:
BGR