Publisher earns $8 million in one year thanks to Apple iOS's Newsstand
1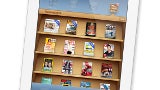 Well, it turns out people are still reading magazines. Digital magazines, in particular, have been seeing a terrific boost these days thanks to the iPad, where Apple promotes books and magazines via the iTunes store and iBookstore. Last year, the iOS 5 software brought a new feature called Newsstand, which was geared specifically towards digital magazine reading. Newsstand allows you to easily discover, purchase, organize and read magazines on an iPad or iPhone (preferably on iPad...), and it looks like some publishers are taking full advantage of it.
UK publisher Future, for example, has made the impressive $8 million from Newsstand so far, having its content available through the service right from the start, which was about a year ago. This became known during the company's interim trading update on Thursday:
Sales of digital editions on Apple devices have passed £5 million ($8 million) in the period since the Apple Newsstand was launched in October 2011.
Future offers popular titles such as PC Gamer, T3 and MacLife. As a whole, the publisher has seen a substantial growth in its digital distribution business ever since the launch of Newsstand, while before it had to rely on web portals like TechRadar, GamesRadar and BikeRadar in order to reach consumers.
However, not all publishers are experiencing the success of Future, so how did they pull it off? Well, it's possible that the company's in-house developed software suite, FutureFolio, has played a major role in this. FutureFolio is a set of tools which helps in the design of digital magazines, especially such with interactive elements. Future is now even trying to license the software to its competitors.
Meanwhile, most publishers do realize the growing mobile device / tablet audience, but they aren't seeing a proportional growth of their earnings from mobile devices right now. More often than not, publishers seem to blame ad agencies, which they say do not take the mobile market seriously enough yet. Others say that the dependency on low-yield ad networks is the culprit. When it comes to Android tablets, though, the lack of consumer-centric interface and general lack of content can be seen as a major reason for people not willing to invest heavily into the yet developing ecosystem.
source:
AppleInsider
and
PaidContent