Prediction calls for 150,000 apps in Android Market by end of next year
This article contains unofficial information.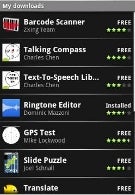 Simon Khalaf, CEO of mobile analytics firm Flurry says that because of efforts by Verizon, Motorola and Google to promote the DROID, and thus the Android OS, "A lot of developers have come onto the Android platform". Thanks to this this, he tells Business Week that the Android Market should go from the
currently available
16,000 apps to as many as 150,000 by the end of next year. Khalaf predicts 300,000 downloads available for the Apple App Store by the end of 2010, approximately triple the
current count
, while the Android Market will have 100,000 to 150,000. His company, Flurry, studies applications and their use.
The recent success of the Motorola DROID, sold through the nation's largest cellular operator-Verizon-and the leaked news of the HTC Nexus One, has brought much attention to the Android OS. Throw in the number of new Android handsets expected in 2010 and the amount of developers writing for the Market should grow tremendously. Also, the quantity of apps is not as important as the quality of apps. After all, how many fart apps can one person use?
source:
BusinessWeek
via
Phandroid