PollCat is an Android app for creating your own online polls
2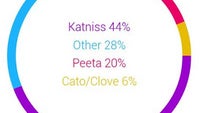 Chances are that if you have access to the internet, then you've surely voted in polls on web sites that you've visited. How many times, however, have you had the opportunity to make a poll of your own - to invite people to share their standpoint on a given topic? Today we're bringing you an app made to help you do just that.
This is PollCat. It is a free and simple to use mobile application for creating polls on a topic of the user's choice. Anything from "Do you think that aliens exist?" to "At what time do you go to bed at night?" can be seen on the list of trending polls. The whole poll creation process is pretty straightforward and litterally takes only about a minute of your time. Once you've typed in your question and possible answers, just share your poll with the PollCat community. They'll be happy to provide response. Who knows, maybe your poll is going to become popular enough to land on the app's featured page.
Of course, you're free to just browse the list of polls and look at the people's answers, in case you're not feeling like asking anything. You can filter polls by popularity or category, or just check out the newly submitted ones.
That's PollCat in a nutshell. Overall, the app's is fun and has potential even though its user base is still quite small right now. To give it a try, just follow the download link below.
| | |
| --- | --- |
| Developer: NDCubed | Download: Android |
| Category: Social | Price: Free |