Poll results: Would you buy an eventual iPhone 6 with a larger screen?
43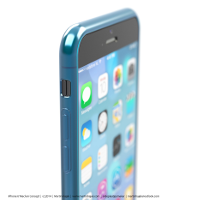 With
iPhone 6 rumors and leaks
coming out of our ears,
a few days ago
we thought it's about time we sought your opinion on the upcoming Apple flagship.
If the rumor mill has it right, and we have a feeling it does, the next iPhone will be outfitted with a very large (for Apple, at least), 4.7-inch display. That's a not at all trivial jump from the 4-inches of the iPhone 5 and 5s, which have 0.5-inches over all older iPhone models.
Display size, precisely, has been the single most repeated argument for many against the iPhone, especially if they happen to be users of rival platforms. Now that Apple is seemingly ready to make the transition to a larger-screened iPhone, for many the question would come down to brand loyalty and a choice between Android, Windows Phone, and iOS. And that's where our poll comes in.
When asked whether they'd buy an eventual iPhone 6 if it had a larger screen, the majority of you (irrespective of current OS platform) -- 55.42% -- voted that they would, indeed, go for it. The remaining 44.58% are seemingly uninterested. Check out the exact break down below in order to gauge people's platform loyalty.