Poll results: Are you into limited edition flagships like the Iron Man S6 edge?
4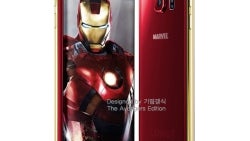 The
Galaxy S6 edge Iron Man edition
used to go for pretty penny on eBay, but its actual price turned out to be far humbler. The Marvel Comics hero-clad smartphone is a sight to behold, with a shiny red-and-gold nanocoating, that Samsung so eloquently clarified in a blog post is needed to arrive at multiple color layers infused into a single solid color of the premium S6 edge chassis.
In addition, the phone takes advantage of the new theming engine in the S6 edge TouchWiz overlay to introduce an Iron Man one, which is on by default, and presents new icons, wallpaper, as well as a shiny golden thread.
Well, you can have one if you got $2500 lying around, doing nothing, which is still pretty steep for a phone that is not all wrapped up in gold and Swarovski crystals. This is why we were wondering if you would snatch one of those limited edition phones from Samsung, HTC and others, if you have the chance and cash to burn. It turns out that most of our respondents (55%) are not interested in being that unique and flaunting limited edition flagship, but there is a sizeable chunk that don't mind getting something more out of the ordinary, if they had the chance.