Poll: Would you rather have a thicker iPhone with a larger battery?
54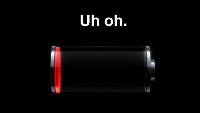 Earlier today,
we published the results from the battery life tests of the iPhone 6 and the iPhone 6 Plus
. On the whole, those were underwhelming, especially when talking about the 4.7-inch model and its conservative, 1810 mAh cell. The 2915 mAh unit found embedded within the iPhone 6 Plus' body is, of course, a better performer, but not by a whole lot, and while it essentially matches the LG G3 and the Samsung Galaxy Note 3, it does still fall behind devices like the Samsung Galaxy S5, the Sony Xperia Z2 and Z3, and the HTC One M8.
Quite frankly, the topic of battery life has been receiving more and more attention as of late, likely because most other aspects of the smartphone experience, especially when talking flagships, have long crossed the minimum acceptable threshold. In other words, the processor, display, and camera are all likely more than good enough for the average person out there. But battery life -- not so much. In fact, just a year ago, most of us were lucky to have our device hold beyond what felt like a standard, 24-hour lease on life. Things have changed for the better since, but it feels like Apple is starting to lag behind in this department -- after all, there's a cost attached to those extremely-thin profiles. So thin, in fact, that some of you might actually prefer that Apple kept the 7.6-mm body of the iPhone 5s, for example, and filled the extra space with a larger battery. Do you agree?