Pizza is on the menu for this week's T-Mobile Tuesday
3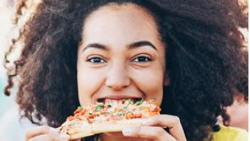 T-Mobile subscribers better have a love of pizza, because the carrier is serving up some pies over the next four weeks. Each account will receive one free large or pan pie with a single-topping over one of the next four Tuesdays. The pizza will be coming from Papa John's, and if you're a T-Mobile customer, you will need to check the T-Mobile Tuesday app every week between February 14th and March 7th to see when your free pie will be delivered.
Other freebies that are part of this coming week's T-Mobile Tuesday include 25% off the cost of an
online
order placed from Papa John's regular menu. This Tuesday is Valentine's Day, and T-Mobile is giving subscribers one free movie rental from among the 40,000 choices offered by FandangoNOW. This will allow you to have a romantic evening watching your favorite film. Also this Tuesday, subscribers can visit their local T-Mobile store to pick up a free pair of T-Mobile socks in either black or white. And lastly, T-Mobile subscribers will get a free Lyft ride of $15 or less.
Turning to the weekly contests, two Grand Prize winners will each win a $500 eGift Card from Papa John's which can be used for food, drink or a tip. Both winners will also receive a home entertainment system, which includes a 55-inch 4K TV and soundbar system. The Grand Prize winners will be given a check for $1,072 each for taxes, or whatever the winners want to spend it on. One Hundred First Prize winners get a $100 eGift card for Papa John's, which can be used toward the purchase of food, drink, or to leave a tip. Four Hundred Second Prize winners will be the recipients of a $25 eGift card from Papa John's.
Altogether, there are 502 total prizes being handed out this week, valued at $27,144. As far as the freebies are concerned, since T-Mobile Tuesday started last summer, the carrier has given out over 30 million free items to more than 6.2 million subscribers.
source: T-Mobile