Pinger gives free voice calls on iOS devices
0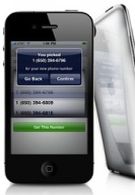 Pinger will soon offer a new service of free voice calling (like
VoIP
) over Wi-Fi and 3G for your Apple
iPhone
, iPod Touch and
iPad
.
The free service is entirely ad-supported, but you can purchase extra minutes if you need them. Pinger already makes Textfree, which provides a similar ad-supported free texting service. Pinger estimates that they have already delivered 1.2 billion ad exposures over the course of 4 billion sent texts.
One concern is how they will deliver the ads. With the text service, they post the ads around the typing field, so will the ads be spoken during your phone call instead? Perhaps you have to listen to an ad first, and then you can dial.
The carriers shouldn't panic just yet, as Pinger requires either a network or Wi-Fi, and minutes per month will be limited. As of yet, we don't know the exact allowance. Then again, with Wi-Fi hotspots seemingly everywhere, users might be able to stick to Pinger through most of the day. Pinger's minutes might be most useful as supplementary talk-time if you realize you're nearing your limit.
Pinger will probably take from the carriers' business only in the case of
iPod Touch
owners who only make mobile calls occasionally, and so forgo buying a prepaid phone.
source:
VentureBeat
via
IntoMobile