Apple Peel 520 converts an iPod touch into a phone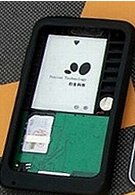 One of the most useful third party accessories for the iPod touch is coming to the US as Go Solar USA announced a deal to sell the Apple Peel 520. This nifty accessory from Chinese accessory maker Yosion is basically a case for the iPod touch which packs along a battery, dock connector, and a SIM card – the recipe to turn the music player into a full fledged phone.
We've already
reported about another Peel previously
as it was positioned to utilize Sprint's 3G network to provide the iPod touch with a 3G connection. However, the Apple Peel 520 takes it one step further by allowing owners to place voice calls on their iPod touch. Additionally, it features an 800mAh battery which should put out approximately 5 hours of talk and 120 hours of standby time. Now the only requirement to get it all to work is to have a jailbroken iPod touch on hand, but early reports indicate that SMS delivery can be hit or miss right now.
This thing is already shaping up to be quite popular as the first production run of the accessory is sold out, however, there is no time indication when it'll go live in the US. If you happen to be interested, you'll be glad to know that the Apple Peel 520 will retail for around $60 – something that's definitely reasonable.
via
Engadget