Pimp my phone: 10 cool new Android launchers, switchers and interface tools for October
22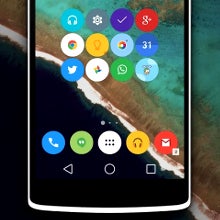 We took a glimpse at what's new and cool at the Play Store in the interface draping department, and noticed a few launchers and interface tools that you might find useful, or at least funky to try out.
First in line are the Android Lollipop and iOS 8-style launchers, of course, as the newest editions of Google's and Apple's mobile operating systems are the hot topics in the software departments at the moment.
There are also a few novel takes on improving on your stock HTC, Samsung and Sony Xperia device interfaces, should you be the proud owner of those, and, finally, we are ending up with a few new tools like an Android keyboard switcher, a handy S-Finder launcher, and all the CyanogenMod apps you can bear on your handset, should you be a fan of those.
Now reading