Pebble smartwatch torn down: virtually impossible to repair, but tough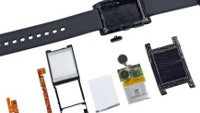 The Pebble smartwatch started as a huge Kickstarter success story, a promise to make the smartphone of the future a present reality, it has now been here for a while, just enought for device surgeons from iFixit to tear it down.
Good news is the Pebble smartwatch is a pretty tough nut to crack, water resistant and protected from the elements. But this toughness is a double-edged sword, as it also means the Pebble is almost impossible to repair.
While trying to pry it open, even the experienced repairmen at iFixit could not do this without cracking the screen. Let's hope that this watch does not break easily.
Now, we don't know how much of an issue that really is for a watch. For once, battery life will limit its longevity to between 6 and 10 years, which seems enough. As to the repairability? It's up to you to decide how important is that for you. Take a look at the teardown right below.
source:
iFixit