PayPal is aggressively expanding in-store payments to 2,000 retail stores
3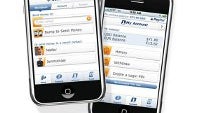 PayPal
is a force that has a sizable established user base, so it's no wonder why they're trying to aggressively make an indelible mark in the whole mobile payment scene that's set to gain more momentum this year.
Previously, the popular payment service managed to kick things off by initializing its mobile payment pilot program to 51 Home Depot stores. However, they're now ready to expand it to an unprecedented level that will see its reach to more than
2,000 locations
with various retailers.
Concurrently, PayPal is developing its own mobile wallet app, which essentially stores pertinent payment information on a PayPal card or smartphone. From there, users can then use their mobile devices and a required pin code to make payments at the registers of the participating stores.
Of course, PayPal's offering is competing against other similar services – like Isis and Google Wallet. Not surprisingly, this move to expand will provide PayPal with a solid footprint, and ultimately put them at a health position. Well, 20 different retailers are on board with PayPal's expansion, but more importantly, PayPal intends on completing the expansion by
March
. Therefore, if you happen to buy something at your favorite retail store, don't be too alarmed if you see PayPal as a form of payment at the check out register.
source:
BusinessWeek
via
Phonescoop