Parrot's AR.Drone 2.0 flies to CES: 720p video, now taking stills from the sky
0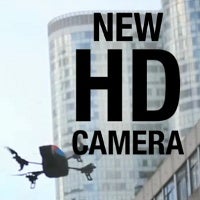 The
Parrot AR.Drone
is probably the most popular flying device supporting iOS and its return is excellent news for gadget enthusiasts and photo and video adepts wishing to capture a scene from that impossible angle. The new AR.Drone 2.0 has landed at CES and it packs a brand-new and better camera shooting 720p video and taking still while in flight.
The new functions will be baked in the app that control the quadricopter and the update will soon be made available. The updated application will allow you to beam those videos even quicker to YouTube with one-tap sharing. But the changes have come even to the interface of the application. Luckily, the app remains compatible with the current AR.Drone.
The pure operation of the AR.Drone 2.0 has also been improved with an installed magnetometer. Combine this with the same magnetometer present in an iOS device and you get what Parrot calls
"Absolute control"
mode
,
so that no matter what the orientation of the device is a tilt forward would always move it forward. This should translate into less confusion for you trying to fly the device.
The new Drone also comes with
increased stability and range
- it can now fly up to heights of nearly 20 feet (6m). The actual limit of the quadricopter is limited by the range of the Wi-Fi network you're connected to. With the same $299 price tag, the AR.Drone has the potential to be one of the coolest gadgets of the year. Expect to see it on shelves in the second quarter of 2012.