OnePlus 6T first day sales in U.S. rocket 86% higher than release day purchases of the OnePlus 6
45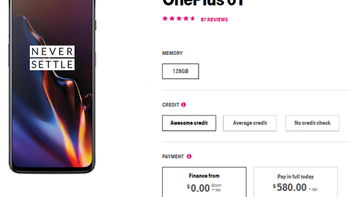 For the first time ever, U.S. consumers were able to purchase the latest OnePlus handset directly from a major wireless carrier. With T-Mobile offering the recently released
OnePlus 6T
,
it should be no surprise that according to XDA, launch day sales of the device in the U.S. soared 86% higher than the release day sales of the
OnePlus 6
. With T-Mobile becoming the first stateside wireless provider to embrace a OnePlus handset, those interested in the phone could take advantage of carrier financing, trade-ins and other deals for the model.
Possibly helping the OnePlus 6T sell like hotcakes in the U.S. is the fact that the phone includes Band 13,
which allows the device to be certified for use on Verizon
. While this might have helped the phone get off to a great start in the U.S. (Verizon is the nation's largest wireless provider after all), not all of Verizon's bands are included. As a result,
texts are not being received
, and LTE speeds are slower than those experienced on T-Mobile's network. Keep in mind that Verizon is not selling the phone.