You can activate the OnePlus 6T on Verizon, but LTE speeds may be slower than with T-Mobile
1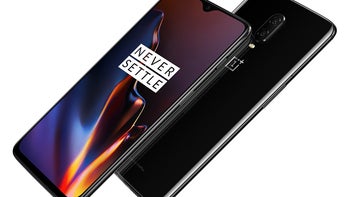 The
OnePlus 6T
was announced as the one and only top-end phone from a modern Chinese maker that will not only have retail presence in the US, but also be offered by a US carrier. T-Mobile is the brave first Un-carrier that will be offering the handset in times when the US-China trade relations are at a low point. If the line in front of its Times Square store during the
OnePlus 6T takeover
the other day is any indication, it might have a veritable hit on its hand, with a good reason.
At a $549 starting price, the glass-clad phone with huge OLED display, top-shelf Snapdragon 845 chipset, dual camera and a beefy battery sounds like a bargain and compared to other Android options out there, it is. Can you use this puppy on America's largest carrier, though?
Yes, you can, as Verizon has signed off on its network certification credentials and tests reveal you can simply put in your Verizon SIM card in the OnePlus 6T and will have voice, text and data services available immediately. Bear in mind you'd have to get the unlocked version from the OnePlus website which has dual SIM functionality as an added bonus.
There is a fly in the Verizon ointment, though, despite that on paper the LTE bands comparison table below speaks positive about the necessary frequencies. While the OnePlus 6T has the all-important LTE band 13 covered for Verizon, as well as bands 2, 4 and 5, it doesn't have some auxiliary spectrum support to take full advantage of
Big Red's impressive LTE footprint
.
Anecdotal evidence shows that the difference in LTE download speeds with the same OnePlus 6T unit can be
several times in favor of T-Mobile over Verizon
, as the 6T is fully optimized for T-Mobile LTE frequency bands. Bummer, but if you can live with the cited 19Mbps downloads on Verizon vs 78Mbps on T-Mobile, the important thing is that the 6T is the first phone of the value-for-money OnePlus brand that is even certified for Verizon usage.

On paper, the OnePlus 6T supports the major Verizon LTE bands, but in reality it's optimized fully for T-Mobile's network