OnePlus 6 vs Galaxy S9+ vs LG G7 ThinQ: High-end Android specs comparison showdown
5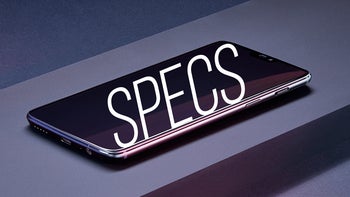 The
OnePlus 6
is now official and it aims to take on the flagship stock by bringing some of the best possible specs out there at a pretty aggressive price that makes it one of the greatest pretenders for the value-for-money title.
With a Snapdragon 845 chipset, 6/8GB of RAM, fast UFS2.1 storage, and 16MP+20MP rear camera, the OnePlus 6, Adreno 630 GPU, the phone has got everything necessary to take on any flagship Android device and emerge victorious.
In this here piece, we will show you how the phone stacks up against the
Galaxy S9+
and the
LG G7 ThinQ
, two of the hotter Android phones to arrive in the past few months. Here's a specs comparison that will put them against one another pound-for-pound.
Super AMOLED
IPS LCD
AMOLED
HDR support, Scratch-resistant glass, Ambient light sensor, Proximity sensor
HDR support, Scratch-resistant glass, Ambient light sensor, Proximity sensor
Scratch-resistant glass, Ambient light sensor, Proximity sensor
Qualcomm Snapdragon 845 SDM845 (10 nm)
Qualcomm Snapdragon 845 SDM845 (10 nm)
Qualcomm Snapdragon 845 SDM845 (10 nm)
Octa-core, 2800 MHz, Kryo 385, 64-bit
Octa-core, 2800 MHz, Kryo 385, 64-bit
Octa-core, 2800 MHz, Kryo 385, 64-bit
Adreno 630
Adreno 630
Adreno 630
64GB
64GB
256GB, not expandable
Android (10, 9.0 Pie, 8.0 Oreo), Samsung One UI
Android (9.0 Pie, 8.0 Oreo)
Android (11, 10, 9.0 Pie, 8.1 Oreo), OxygenOS UI
Qualcomm Quick Charge 2.0, Samsung Adaptive Fast Charging
Qualcomm Quick Charge 3.0
OnePlus Dash Charge
35.00 hours
the

average

is 11 h (660 min)
20.00 hours
the

average

is 11 h (660 min)
14.2 days (342 hours)
the

average

is 29 days (688 h)
15.6 days (374 hours)
the

average

is 29 days (688 h)
3G: 13 hours; LTE: 15 hours; Wi-Fi: 15 hours
Dual camera
Dual camera
Dual camera
16 MP (OIS, Laser and PDAF, CMOS image sensor, BSI sensor)
16 MP (OIS, PDAF, CMOS image sensor)
Aperture size: F1.5/F2.4; Focal length: 26 mm; Sensor size: 1/2.55"; Pixel size: 1.4 μm
Aperture size: F1.6; Focal length: 30 mm; Sensor size: 1/3.09"; Pixel size: 1 μm
Aperture size: F1.7; Focal length: 25 mm; Sensor size: 1/2.6"; Pixel size: 1.22 μm
12 MP (Telephoto, OIS, Autofocus)
16 MP (Ultra-wide, PDAF, CMOS image sensor, BSI sensor)
20 MP (PDAF, CMOS image sensor)
Optical zoom: 2.0x; Aperture size: F2.4; Focal Length: 52 mm; Sensor size: 1/3.6"; Pixel size: 1 μm
Aperture size: F1.9; Focal Length: 16 mm; Sensor size: 1/3.09"; Pixel size: 1 μm
Aperture size: F1.7; Focal Length: 25 mm; Sensor size: 1/2.8"; Pixel size: 1 μm
3840x2160 (4K UHD) (60 fps), 1920x1080 (Full HD) (240 fps), 1280x720 (HD) (960 fps)
3840x2160 (4K UHD) (60 fps), 1920x1080 (Full HD) (60 fps), 1280x720 (HD) (240 fps)
3840x2160 (4K UHD) (60 fps), 1920x1080 (Full HD) (240 fps), 1280x720 (HD) (480 fps)
HDR, Time-lapse video, Hyperlapse, Continuous autofocus, Object tracking, Picture-taking during video recording, EIS, Video calling, Video sharing
HDR, Time-lapse video, EIS, Video calling, Video sharing
Time-lapse video, EIS, Video calling, Video sharing
8 MP
8 MP
16 MP
2560x1440 (QHD) (30 fps)
1920x1080 (Full HD) (30 fps)
1920x1080 (Full HD) (30 fps)
6.22 x 2.91 x 0.33 inches (158.1 x 73.8 x 8.5 mm)
6.03 x 2.83 x 0.31 inches (153.2 x 71.9 x 7.9 mm)
6.13 x 2.97 x 0.31 inches (155.7 x 75.4 x 7.75 mm)
6.67 oz (189.0 g)
the

average

is 6.2 oz (178 g)
5.71 oz (162.0 g)
the

average

is 6.2 oz (178 g)
6.24 oz (177.0 g)
the

average

is 6.2 oz (178 g)
Back: Glass (Corning Gorilla Glass 5); Frame: Aluminum
Back: Glass (Corning Gorilla Glass 5); Frame: Aluminum
Back: Glass (Corning Gorilla Glass 5); Frame: Metal
Water, Dust; IP68
Water, Dust; IP68; MIL-STD-810 certified
Splash
Iris scanner, 2D Face unlock, Fingerprint (touch)
2D Face unlock, Fingerprint (touch)
2D Face unlock, Fingerprint (touch)
Notification light
Notification light