Olloclip releases new 4-in-1 lens package: brings fisheye, wide-angle and two macro lenses to iPhones
9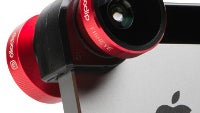 Olloclip makes one of the most popular snap-on lenses for the iPhone and now it has released a brand new 4-in-1 lens that allows iPhoneographers to add macro (at two levels), fish eye and wide angle lenses to their arsenal.
The 4-in-1 system is extremely portable as it weighs less than 1 ounce and it just slips on the iPhone. It is made out of aircraft-grade aluminum and features coated-glass optics taylor-made for the 8-megapixel camera of the iPhone 5/5s.
The biggest improvement over Olloclip's previous 3-in-1 lens is the addition of a new macro lens. Now you have both a 15x zoom and 10x zoom lenses, and the 10x one brings less distortion but still an awesome blurred background (bokeh) effect to it.
The new wide-angle and fish eye lenses have also been enhanced with less distortion at the edges of the image and generally sharper images.
The new Olloclip 4-in-1 package is on sale for $70 on the company's website.
source:
olloclip