Notion Ink shows off pre-alpha ICS build for the Adam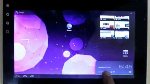 The Notion Ink Adam was one of the first Android tablets to get some buzz around it because of its unique design, innovative features, and open CEO who blogged about everything that went into the design choices and everything that has gone into creating the tablet. CEO Rohan Shravan had said before that Notion Ink had been working on the Ice Cream Sandwich update and would have it
ready for November
. That didn't quite work out, but now he has a pre-alpha ICS build to show off.
In the video preview, the build is looking pretty nice. It's running very smoothly because hardware acceleration is working. Notion Ink also has GPS, WiFi, accelerometer, SD card and ADB working. But, this is a pre-alpha, so it's not all working. Rohan says that the team is still working on getting the camera, sound, 3G, Bluetooth and other sensors working, as well as a sleep bug. The build doesn't show any of the proprietary Eden UI that had been on the Notion Ink Adam. We've contacted Rohan about if/how Eden will be used in the ICS update and we'll let you know what he says.
Update
: Rohan responded and let us know that more information would be available about the Eden UI and the Genesis app store at CES next month, but for now the ICS update is just stock Android.
If you're a developer, you can follow the progress on GitHub, and if you're really adventurous, Notion Ink has posted the ICS ROM on Conclave. Notion Ink is planning to have the alpha release ready for the first week of January and a beta release by the end of January.
The company has also held back a small number of Adam tablets for purchase, and has opened up the ordering process for those now, although it is a bit expensive at this point with the LCD version starting at $325 for WiFi-only and Pixel Qi version starts at $400 for WiFi-only.
source:
Notion Ink
Recommended Stories