Nokia shuts down its N-Gage development division in Vancouver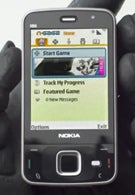 The reason for the forthcoming closedown of the Nokia´s N-Gage development division in Vancouver is not entirely clear. Whether it´s the worldwide financial meltdown or the maufacturer needs more developers assigned to other projects, can this be the first step down the road that would ultimately lead to the death of N-Gage?
The latter is a distinct possibility, given Ovi can take on the functions of the gaming platform. Moreover, many leading game developers, like EA for an instance, now have their own divisions for cell phone versions of their latest titles. All the games, based on popular movies that we have
recently reported
about make for an illustrative example.
Anyway, will keep a sharp eye on what´s in store for the N-Gage platform. Now it´s time we paid our respect to the developers in the Vancouver division of Nokia that have spent innumerable hours working on major titles like Call of Duty, Tiger Woods and Tony Hawk. Good luck, guys!
via
EngadgetMobile