Nokia selling its messaging unit to British Synchronica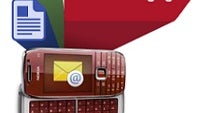 Nokia's Operator Branded Messaging business
serves a lot of carriers including the four major ones in the US, but also Bell Mobilie and Rogers Wireless among others, and all of this is now going to British mobile messaging solutions provider Synchronica. The deal has yet to be approved by regulators and shareholders, but Synchronica is already planning on raising $15 million through shares, representing more than a third of the company's share capital.
The
value of the deal
has been said to be nearing
$25 million
with $4 million due in cash upon the completion of the deal. This gives the British company an excellent possibility to enter the key US market as more than six million customers use the current Nokia service. The company is already present in Latin America, Asia, Russia and Africa with agreements with more than 80 carriers.
The Nokia-Synchronica deal means more than just a money transfusion, and is rather a long-term partnership as Synchronica will now be responsible for the messaging software on some
Series 40 and Symbian phones
. In addition, nearly 250 Nokia employees will jump ship to Synchronica. The Finns have been trying hard to cut cost and restructure ahead of the Nokia Windows Phone debut, transferring Symbian efforts to Accenture, and now its messaging unit. But the biggest open question remains the fate of the unprofitable joint Nokia Ericsson network.