Nokia prepares 6315i EV-DO clamshell for Verizon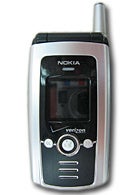 The FCC approved another CDMA phone bearing Nokia's name – the 6315i. Similar to the 6215i, the new phone is a rebranded Pantech, and will operate on the Verizon UI. In contrast to the 6215i, the 6315i is EV-DO capable clamshell with WAP2.0 internet browser, it has 262k color 176x220 pixels color internal display and megapixel camera with flash. It also packs some multimedia features, with music-dedicated keys on the front cover and microSD slot for memory expansion.
Still it has not been officially announced by Nokia or Verizon.
Source:
FCC