Nokia passing up on version 2 of Symbian and jumping into version 3?
This article contains unofficial information.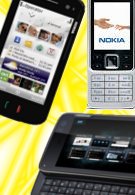 Attempting to juggle simultaneous support for three platforms sounds like a handful, but Nokia is looking to speed up the development of its Symbian platform by skipping out on version 2 in favor of offering version 3. The third installment of the Symbian platform is expected to offer support for multi-touch and be available sometime around the third quarter of 2010 – then moving onto version 4 in late 2010 or early 2011. Presently they will continue to offer Maemo-based mobile computing devices, Symbian S60-based smartphones, and Symbian S40-based feature phones – prices for S60 models are expected to be more competitive in 2010. Looking forward to the future, Nokia plans on seeing S60 handsets consisting about 55 percent of Nokia's total handset shipments, followed by S40 at 35 percent and Maemo-based devices at 10 percent by 2011. Although version 3 of Symbian might be on the present to-do list, version 4 is believed to be based on the Qt cross-platform application development framework developed by Trolltech – which Nokia acquired in June 2008. It will allow software developers to develop application software support both Symbian and Maemo platforms simultaneously.
via
DigiTimes