Nokia asks you about the brand name of the first series of Nokia Windows Phone devices
40
The
first fruits of the Nokia Windows Phone labor
are slowly but surely approaching as the world stands still holding its breath in a monumental effort...or is it? Either way, the Finns have given a little something to entertain those patiently waiting for the first series of Nokia WP devices - the opportunity to name them.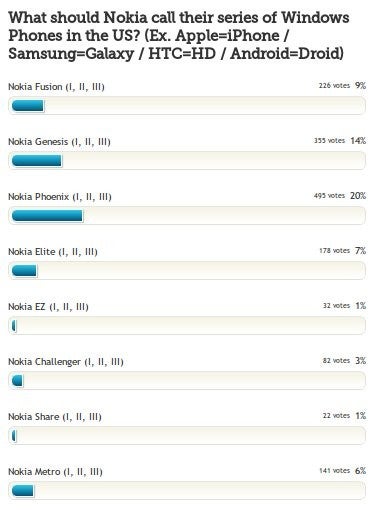 Nokia's head of development marketing stateside, Chanse Arrington, has posted the link to a poll listing 20 brand names to pick from and lo and behold the
Nokia Phoenix
is currently in the lead. Could make you think that the company has already gone to the ashes! If you don't agree with that assumption - you still have the opportunity to change it by voting.
Nokia Genesis and Fusion are the current runner-ups, but you can event add your own suggestion if you don't like those already out there. Hit the source link below to cast your votes and feel free to tell us all about your reasoning in the comments below.