Nokia announces the 6710 Navigator and 6720 classic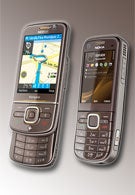 Without too much noise, Nokia has announced two new models, running Symbian S60 3rd Edition – the slider 6710 Navigator and the candybar 6720 classic. A quick glance through their specifications convinced us that they do not deserve applauses, but as always, the Finns have done a good job in incorporating interesting elements even in the simplest of their devices.
Do you remember that in the beginning of December 2008, we'd told you of the
new version of Nokia Maps
? Well, the 6710 Navigator takes advantage of all its features, including navigation for the drivers, as well as for the pedestrians, complete maps of different regions and a compass. The interesting here is that the phone will offer a touch-sensitive area that will allow you to easily zoom in/out of the image on the screen, which, by the way, is 2.6-inch with QVGA resolution and is said to be really suitable for outdoor use. Other features include a 5-megapixel camera with a Carl-Zeiss optics and a double LED flash, a 3.5mm jack, FM radio, Wi-Fi and (of course) a built-in aGPS. What makes it different from the other models of the Navigator series is the package, in which it'll be sold. It will include a car cradle (CR-111), which may be combined with a loudspeaker (HF-310), making the navigation in a car a lot more pleasant. It also supports all the features, offered by the collaboration between Ovi and the maps, including a 3D view and trip planning. The good news is that there are both Europan/Asian and U.S. versions. The bad news is that it is expected to hit the market as soon as Q3 2009 at a price of 300 Euro ($383) before taxes and subsidies.
Nokia 6710 Navigator Specifications
The other new model, the 6720 classic, shares similar specifications: a 5-megapixel camera with a double LED flash, a 3.5mm jack, aGPS (with the same features from the 6710 Navigator) and TV-out. The display measures the modest 2.2 inches… but having in mind the price tag of the device, it'd totally suit it. In spite of its serious specifications, the 6720 classic is expected to be a mid-end phone and will be sold for 245 Euro ($313) before taxes and subsidies. It should be released in this year's second quarter with versions for Europe/Asia and the U.S.
Nokia 6720 classic
source:
Nokia