Nokia announces HERE Auto with app for smartphones
60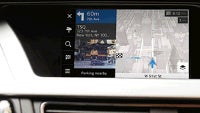 Thursday evening, Finnish OEM Nokia posted a cryptic message hinting at an announcement for Friday morning. There was some thought that the announcement would be related to cars since the message concluded with Nokia wishing everyone a safe drive home. Sure enough, on Friday morning Nokia introduced a series of applications that offer more than just navigation for cars. Nokia HERE Auto, HERE Auto Crowd and AUTO Companion will all be displayed at the International Motor Show in Frankfurt on September 10th.
HERE Auto allows the driver of a car to view an in-dashboard map and get voice-guided navigation even without a data connection! Navigation is available in 95 countries in 2D, 3D and satellite map views including street level imagery. With an internet connection, small updates keeps the maps fresh. Using an SDK, car makers in the future will be able to offer entertainment and other features including music and social networking. HERE Auto brings dynamic, always-on updates for traffic, This keeps the driver out of heavily congested areas and also informs the driver where to find something to eat, availability of parking spots, and cheap gas.
HERE Auto Companion is a mobile app that syncs HERE Auto to the driver's Android or Windows Phone handset so that the driver already has his maps and guidance up on his phone and ready to go. This way, information doesn't have to be re-entered when the driver gets back into his car. In addition, drivers can help find their parked car using LiveSight augmented reality technology. And the coolest feature is the ability to check tire pressure and gas levels remotely. Drivers can even start up the AC using the app on the phone so that the car is nice and cool when they step into it on a brutally hot day.
The whole package will be coming to new cars soon. More information will be released at the Auto Show in Frankfurt next month.
source: Nokia