Nokia N00 Prototype C surfaces on eBay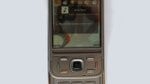 We would surely look old telling our grandchildren about the times when phones had numeric keypads and come to think about it, a phone with such keypad might be a rarity in the near future. Maybe many would not have agreed several years ago when the first iPhone was just released, but that's the way things are going. Nokia, however, might be taking a different stand as the
Nokia N00 Prototype C
surfaces on eBay Germany's site and it looks like a successor to the quite capable
Nokia N86
camera phone.
The prototype sports a Carl Zeiss-crafted 12-megapixel lens and a Xenon flash, which puts it on par with
Nokia's flagship model, the N8
. Is this a project in the making or a thing of the past for Nokia? It will cost you $800 to find out, but the prototype surely looks interesting for a device of the somewhat abandoned lately form factor. What catches the eye is a narrow strip just below the screen, a component, which we have not seen on a Nokia handset before. It could be anything from a design choice to a touch-sensitive controller, but let's not bet on it just yet. The prototype is also equipped with a kickstand, but it is dubious whether this will be of much use given the seemingly small screen size. What are your guesses about the prototype, does it look like a future device from Nokia?
source:
eBay
via
Engadget