Nokia N86 8MP Review
2

This is a global GSM phone. It can be used with AT&T and T-Mobile USA. The American version supports AT&T's 3G network.
Introduction
:
Well into 2009, 8-megapixel cell phones have been around for about a year now and we have already thoroughly compared them. Similarly to the slightly belated market entry of the
Nokia 5800 XpressMusic
, the manufacturer is now taking on the cameraphone niche with their
Nokia N86 8MP
. It is a double slider like the
Nokia N95
and
Nokia N85
and is being extolled as a device with superb camera that allows taking of excellent pictures in both natural and artificial lighting conditions. Aside from it, the N86 8MP's camera is the first in a cell phone with variable aperture. In theory, this would allow better sensitivity to light and improved picture depth. We are getting to this later though; let´s first take a look at what´s inside the box:
Nokia N86
Charger
microUSB cable
Earphones with 3.5mm jack and wired, audio remote control
Software DVD with Nokia Ovi Suite
Manual
Design:
The weight of the Nokia N86 8MP, 5.36 oz. (149 g) did take us aback. Although the device is as heavy as the
Nokia N97
,
the first 8-megapixel camera phone of the manufacturer
feels hefty and solid in your hand due to the numerous metal elements, something we already know from
Arte
models. We aren't into heavy phones much, because they tend to be uncomfortable to carry around in your pocket. At least it is comfy to take pictures with. The handset looks quite stylish in black, although it´s also offered in elegant white, like the Nokia N97.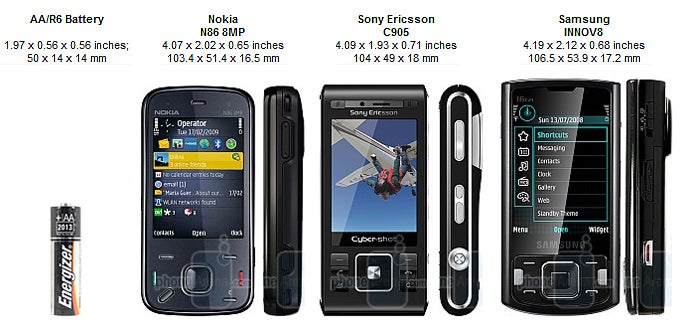 You can compare the Nokia N86 8MP with many other phones using our Size Visualization Tool.
The Nokia N86 8MP sports a
2.6-inch AMOLED display that supports 16 million colors
, has native resolution of 240x320 pixels, light sensitivity sensor and is protected with scratch-resistant glass. We weren't surprised to see that screen offers extremely good image quality and vivid colors indoors. We are also really happy to find out that even if things turn worn out in direct sunlight, details still remain discernible without a problem not like the N85 that becomes virtually unusable outdoors.
Buttons below the screen
might look somewhat small and thin to you, but we didn't have any troubles using them. The same goes for the 5-directional D-Pad and speaking of it, we do like the dent in the middle, because it fits your thumb really well.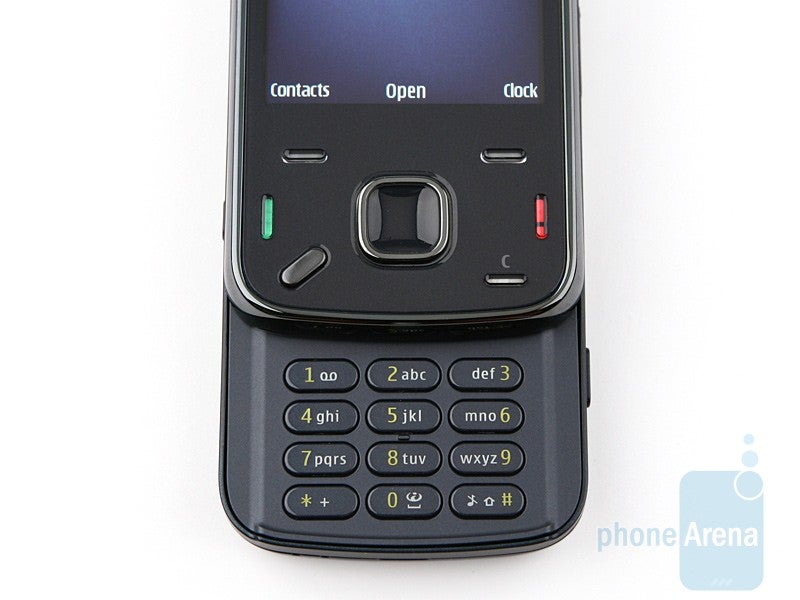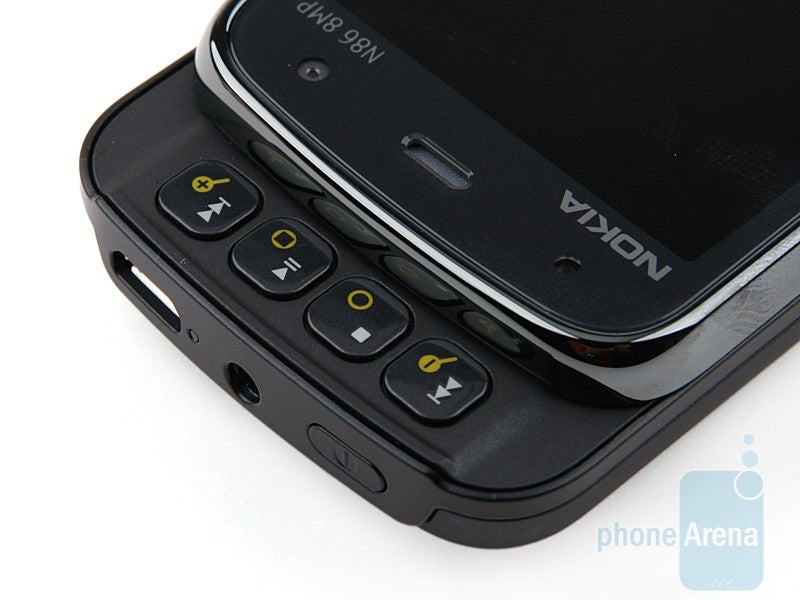 The four multimedia keys
We are also pleased with the slider mechanism. Opening and closing it in both directions is easy. Keyboard buttons are large enough, easy to feel with your finger and we didn't encounter any issues pressing them. If you
push the slider downwards, you will see four multimedia buttons
, much like those on the Nokia N85. They go with the overall design of the Nokia N86 8MP and aside from allowing you to control both audio and video player, they can also be used in games or to zoom in and out while taking and previewing pictures. We have a gripe though – they are located way too close to the edge, so most people would have certain troubles pressing them, because they would keep hitting their fingers against the edge.
On
either side
of the device you will find slider that locks/unlocks the phone keys, power on button, 3.5mm jack, microUSB port, stereo speakers, volume rocker and camera shutter. The latter is most important with this handset and unfortunately, it is the one that gives troubles – keeping it pressed in mid position so to focus is OK, but you do need to push down hard to take a picture, which causes slight vibrations that lead to blurry snapshots.
Speaking of pictures, the Nokia N86 8MP is equipped with
8-megapixel camera
with wide-angle Carl Zeiss Tessar optics, variable aperture and double LED flash. The module resembles the one on the Nokia N97 and even the
cover
is the same with its thin layer that cleans optics from larger dust particles. There is a stand around the camera that allows you to steadily set the phone on flat surfaces and watch videos comfortably. There is a cool function that lets you choose what application is started when you open the stand.
Nokia N86 8MP 360 Degrees View: