Nokia Astound for T-Mobile has NFC chip inside, but you'll have to turn it on
2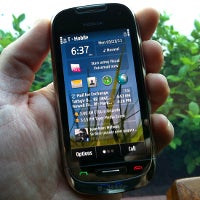 The
Nokia C7
, on which the
Astound for T-Mobile
is based, has
NFC
capabilities for mobile payment, remote access and info gathering, and was even used for this at the CTIA 2011 show. 500 Nokia C7s were available for attendees to use with the bCard Reader technology, which allows for scanning their ID tags when networking. You can read more about NFC in our article
here
.
The Nokia Astound (our hands-on
here
), will have the NFC chip also, but you will have to manually turn it on in the interface, for some reason:
"
The Nokia Astound includes an NFC chip and the device software supports its functionality. The Astound will ship with NFC turned off, but a user can enable it by entering the device settings and turning it on.
"
We guess that's to prevent unnecessary battery drain if the chip was on by default, since there is not a whole lot you can do right now with NFC. Apple, Google, PayPal, and the
carriers with the ISIS project
, are all doing trial runs for their NFC payment systems, but the CEO of VeriFone says most of these won't enter our everyday lives
before 2012
, although this year will be pivotal for the NFC-related ventures in the US.
Still, with the NFC capabilities, and the recently announced
live traffic updates
for the free offline navigation on the slim Nokia Astound, $79.99 is becoming a very decent price for this handset, if you can stomach Symbian, although the Astound comes with
the newest version
that features updated browser and portrait QWERTY. It will probably receive the
new interface
when it is unveiled in the end of the summer, too.
source:
NFCWorld
&
Symbian-Freak