Nokia Asha line to get hot games like Temple Run 2?
23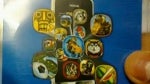 The Nokia Asha line is a low-priced feature phone line from the Finnish based OEM which is powered by Series 40. For example, one of the devices in the series is the
Nokia Asha 311
. With a single-core 1GHz processor,
128MB of RAM
and a 3 inch screen with a 155ppi pixel density, you wouldn't expect this device to be able to play some of the latest mobile games. But it seems that Nokia might have a surprise up its sleeve.
At a developers boot camp held for Nokia Asha Series 40 phones, entrance to the event required an ID "badge". One developer at the event, Shintu Dang, noticed that the badge showed an illustration of the Nokia Asha 311 with the logos of a number of hot games coming from the screen, suggesting that the phone will run these games. The logos were from
Temple Run 2
,
Angry Birds Rio
,
Fruit Ninja
and other top games.
This is speculation at the moment. Still, why would Nokia used the logos of some of the top games specifically on an Asha Series 40 phone if those particular games are not going to be made available to run on the device? This was not a retail or sales oriented event, so there would be no financial reason for Nokia to have done this. For those sporting at least some of the Nokia Asha phones, it looks like you will have some serious game play ahead of you.
source:
Gadgetnmore
via
Softpedia