Nexus 5 hits Carphone Warehouse inventory listings, puts more fuel to the rumor fire
8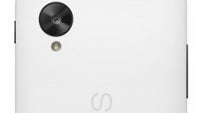 Hours after
appearing up for pre-order in the Netherlands
, the upcoming Nexus 5 has now allegedly surfaced in one of UK's largest retailers, Carphone Warehouse. A leaked inventory listing mentions an
'LG Nexus 5'
in both black and white versions. An image to prove that comes from @evleaks known for its nearly spotless track record, and the image has all signs of being the inventory sheet of Carphone Warehouse.
Unlike the earlier leak from Holland, this time around there is no actual Nexus 5 on Carphone Warehouse's website, nor a price. The inventory listing is as far as it goes.
What does this all mean and why does it matter? If this rumor is indeed true, that would mean that the retailer is getting ready to receive stock of the upcoming Nexus 5.
Let us once again remind you that Google's top executives Vic Gundotra (head of Google Plus) and Sundar Pichai (head of Android and Chrome) were teasing sleepless nights on Google's social network yesterday night.
We'd all expect a proper official event, but it would not be unprecedented if Google quietly rolls out the Nexus 5 just like it did last year. The painless leaks and teasers will likely continue just a bit more, but with so much smoke, the Nexus 5 fire should start burning soon.