Nexus 5 appears in black and white on Dutch retailer, release date set for Oct 30
17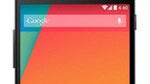 After a brief
'accidental' appearance on the Google Play store
a few weeks ago, the Nexus 5 has now appeared up for pre-order on Dutch retailer Belsimpel and release date is in just two days, on Wednesday October 30th.
The 16GB Nexus 5 is up for sale in both black and white from the get-go for a price of the whopping 459 euro, much more expensive than the $349 starting price it carried when it leaked on Google Play earlier.
Update:
And just moments after we published this, the retailer has pulled the option to actually pre-order the Nexus 5 along with its release date, specs and on-contract pricing. All of this smells fishy and someone might be losing their jobs over at Belsimpel for prematurely leaking the next Nexus smartphone.
Dutch website Tweakers has gotten in touch with Belsimpel and a clerk has confirmed that the store is indeed expecting a huge batch of Nexus 5 on Wednesday. ***
End of update.
The store lists the Nexus 5 in all its glory with press images and price breakdown with and without a contract, and it's one of the bigger retailers in the Netherlands and not just an unknown website teasing this. Still, we have not heard anything from Google today and this is not officially confirmed by the company. Google's top executives Vic Gundotra (head of Google Plus) and Sundar Pichai (head of Android and Chrome) were firing teasers on Google's social network yesterday night, though. Could Google go on and actually put the Nexus 5 up for sale with no huge event or announcement? That might seem strange, but that is exactly what the company did last year. There were force majeure reasons then, but Google might well have decided it all worked out fine.
Otherwise,
everything we know about the Google Nexus 5
is once again reiterated in this listing. The Nexus 5 is said to feature a 5" 1080 x 1920 pixel full HD display, a 2.3GHz quad-core Snapdragon system chip, 2GB of RAM, 16GB of internal storage for the basic model, an 8-megapixel camera with optical image stabilization and a 2300mAh battery.
What do you think, could Google surprise us and quietly unveil this today? We for once will be hitting the refresh button on Google's Play store today more than once. Take a look at the link right below to see the Nexus 5 listed for sale over at Belsimpel Netherlands.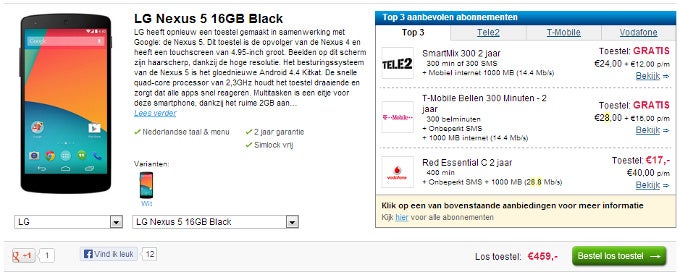 Thanks to everyone who sent this in!
source:
Belsimpel.nl
,
Tweakers