Next-gen Motorola Moto X to be launched in late summer, new Moto smartwatch also coming soon
23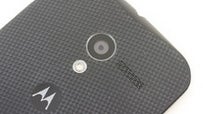 Motorola is doing a Q&A session on Twitter, and the company just confirmed that a new version of its
Moto X
may be released in "late summer."
Obviously, for now Motorola can't provide more details about its next-gen smartphone. But we are expecting it to bring customizable and unique features at an attractive price - just like the original Moto X.
Released in the US in August 2013, the first Moto X did not offer the latest hardware specs, but that's why Motorola can sell it for significantly less than what other companies are charging for their flagship smartphones. Will the new Moto X also follow this path? Let's hope we'll find out soon.
Since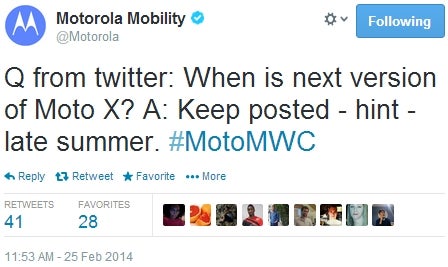 Google sold Motorola Mobility to Lenovo
, Moto's new parent company might plan a global roll-out for the next-gen X, and that could help it sell a lot of units.
Smartphones aside, Engadget has it that Motorola SVP of products Rick Osterloh confirmed at MWC 2014 that the company would release
a new smartwatch
. As you may remember, Motorola launched its first smartwatch, dubbed
MOTOACTV
, in 2011. According to Rick Osterloh, the issue with current smartwatches "is that no one wants to wear them." Well, we're waiting to see what Motorola is going to do about that. The company's new smartwatch should be available starting the next few months and, reportedly, it will "solve some real user problems." We've no idea what that might mean, but we are intrigued. Bring it on, Motolenovorola.
sources:
Motorola
,
Engadget