Motorola has already charted plans for up to 2015: 6-inch phablet and a smartwatch rumored
12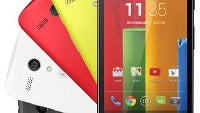 Lenovo will take over Motorola from Google
(after and if the deal passes regulatory approval), but that does not mean that we'll see Lenovo-designed Motorola phones from the get-go. Quite the opposite - Lenovo is said to inherit Motorola's pipelined devices, rumored to be a 6-inch phablet and a smartwatch. There are no further details about the future devices, but we can safely assume that the 6-inch phone would be running on Android. Moreover, Motorola has plans for its second-generation Moto X, and expectations are that Lenovo will not change those plans.
The Chinese company is likely to first have to release all the planned Motorola devices before clearing its pipeline and being able to release brand new, Lenovo-designed Motorola gadgets. It's not clear how long Motorola's pipeline is, but we'd bet on at least a year.
Interestingly, rumor has it that Lenovo will also not change the customization options that Motorola offers with Moto Maker. It could, however, swap the place where most of this customization happens.
We should make it clear that all of this information comes from a Chinese source with a good track record on Motorola, having accurately predicted a lot of the features of the Moto X and Moto G before they arrived to market. Nonetheless, this is still a rumor, so take it with the usual grain of salt.
source:
Weibo
via
GForGames