New Samsung Galaxy Tab S commercial illustrates the superiority of Super AMOLED screens
12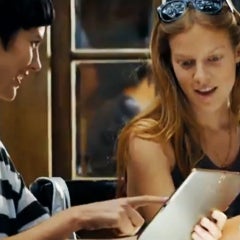 Samsung unveiled a new TV commercial for its Galaxy Tab S line of tablets - which, as you may know, are the world's first to feature high-resolution Super AMOLED displays.
The commercial was directed by Jake Scot (who has made videos for bands like R.E.M., Radiohead and Soundgarden, among others) and concentrates on showing us the difference between a Super AMOLED screen and LCD screens. As we told you earlier today,
Samsung finally managed to address the issues
that are usually associated with AMOLED displays, so the new
Galaxy Tab S 8.4
and
Galaxy Tab S 10.5
definitely offer a greatly improved viewing experience.
"There is no other tablet on the market that can compete with the unrivaled viewing experience, innovative design aesthetics, and industry-leading productivity features of the Galaxy Tab S," declared Younghee Lee, Executive Vice President of Global Marketing, IT & Mobile Communications Division at Samsung Electronics.
You can watch the new Galaxy Tab S TV commercial below (and you'll probably also see it on TV at some point, because Samsung plans to air it globally starting July 3). Both the Samsung Galaxy Tab S 8.4 and Tab S 10.5 are
available to buy in the US
since last week, costing $399 and $499, respectively.