New Phone Arena Feature – Upgraded Comments System
2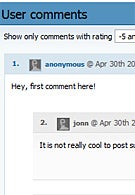 https://www.phonearena.com/Hello Phone Arena readers,
In addition to our daily updates for news, reviews and specifications, we've been working hard behind the scenes to update the Phone Arena features. Now we are proud to announce an upgrade to the comments system, moving it to the next generation.
We've optimized things greatly to include new functionality, such as:
• Reply – your post will be a response to the specific comment and will be included in the "reply tree" as such.
• Rate - give your approval or dislike as rating for a comment.
• Filter – choose to see comments above certain rating, or only main ones (no replies).
• Visualization – see if you want to preview the comments as a tree or sorted by date.
• Follow – if the comment doesn't make sense to you, it is probably a reply to another post. If so, the following text will appear: "This comment is posted in response to …".
• Autofill – Once you are logged in the My Phone Arena system, you don't have to populate your name.
We hope you will like the new system. Try it here (post a comment below) but please, have in mind it is in beta testing, so there may be some minor bugs. Please feel free to notify us as well as give us suggestions, on what you would like to see, by using the linked form (click).
Thank you,
PhoneArena Team