New Nokia Lumia 925 commercial portrays iPhone users as zombies
99+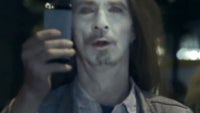 Nokia has just released a weird new commercial for its Lumia 925 and it takes a huge jab at iPhone users portraying them as mindless zombies. The action happens at night, mocking people trying to take a picture with an iPhone in those conditions. The Lumia 925 is of course the solution to these problems.
Our thoughts about all this? We actually like the Nokia Lumia 925 - it is a really nice looking phone with an aluminum rim, and its PureView phase 2 camera delivers more balanced tones than the Lumia 920. Having dual LED flash and optical image stabilization are added bonuses, and the latter definitely helps with low-light shots. We recommend you take a closer look at our
Lumia 925 review
for more details.
As for Nokia's aggressive marketing forays, we are not exactly convinced it's the right way to go. The Finnish company is busy mocking every rival smartphone starting with the Samsung Galaxy S4 Zoom and finishing with the iPhone, but still struggles to get meaningful market share. Some positive marketing could help more. Right below, is the new Nokia Lumia 925 ad, take a look.
Thanks, Dave!
source:
NokiaHomeBase