New Amazon Kindle Fire tablets will come in six variations, Staples hints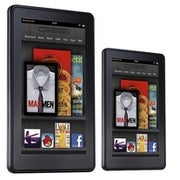 According to Demos Parneros, president of U.S. Staples retail stores,
Amazon will introduce five, maybe six new tablet SKUs
(stock-keeping units) to the retailer's database. The upcoming tablets will be of different sizes, and at least one of them will have a screen measuring 10 inches in diagonal, which lines up nicely with
previous rumors about Kindle Fire successors
.
What does all that mean? Well, getting six new
Amazon Kindle Fire
models seems highly unlikely, and we doubt that we should interpret this rumor that way. Instead, we can assume that those six new tablet SKUs will include the two rumored Kindle Fire 2 sizes
– 7 and 10 inches,
and their variations, including models with extra storage, and possibly even cellular connectivity, be it of the 3G or 4G kind.