NVIDIA Tegra Zone - first impressions
2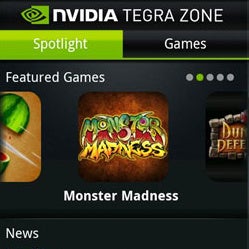 NVIDIA
officially released
its
Tegra Zone app
- a dream place for everyone who craves for mighty apps, which are specifically optimized for the powerful Tegra 2 processor. Things are still evolving with this platform, and yet we don't want to miss the chance to see how smartphone history is unfolding before our eyes, so we are going to take a closer look at NVIDIA Tegra Zone.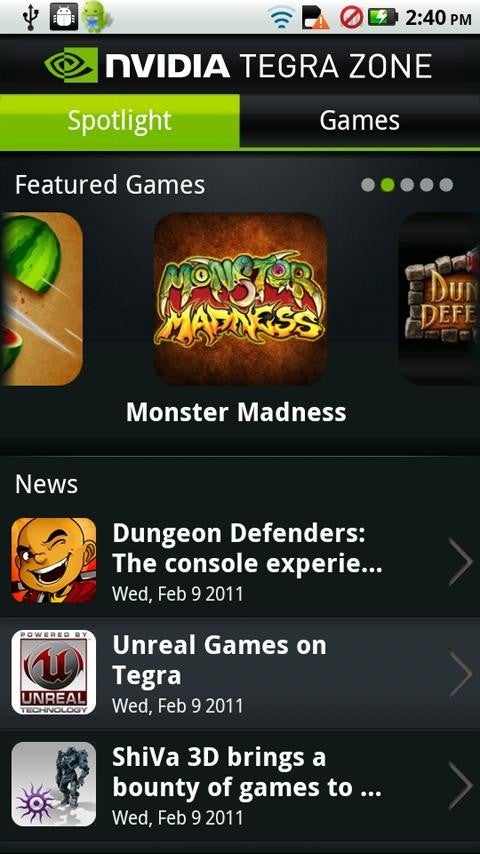 NVIDIA Tegra Zone sports an easy to use interface with only two categories - "
Spotlight
", which is on the left, and "
Games
", which is on the right. Spotlight offers five
featured games
, while below them are located some
Tegra-related news
.
If you click on one of the featured games, that takes you to the "Games" section, and there you see a more thorough description of the game, as well as some screenshots and videos, user ratings and comments, official reviews, related news and apps, as well as plenty of options to share this game - via Bluetooth, Facebook, Twitter and so forth. The "get it now" button is prominently displayed, along with the price of the app, and clicking this button takes you to the Android Market.
If you press the "
Games
" category, you see a vertical list of the available games and their prices. You can sort these titles according to their genre (for example, you can search for action games or for RPGs), while you can also choose to see what Tegra 2-optimized games are currently upcoming.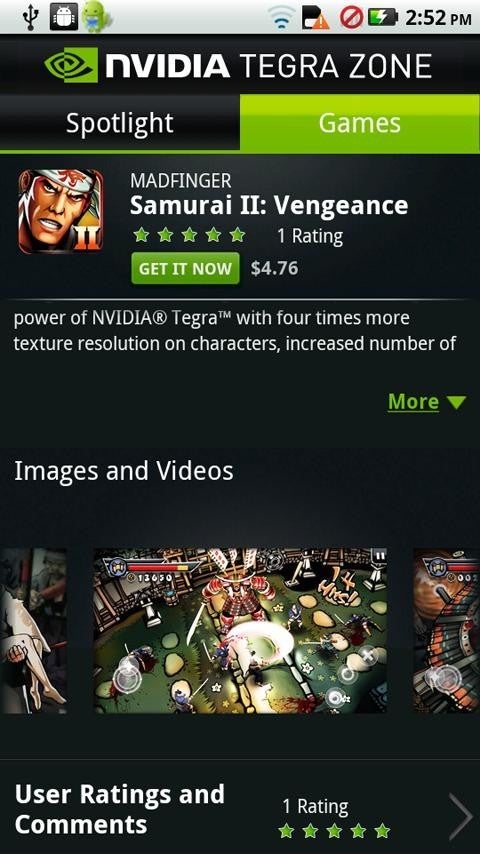 During our tests with NVIDIA Tegra Zone, we have come to like its interface, except for the fact you see only one news at the time while browsing the "Spotlight" category. The truth is that this Android app may very well shape as the place to be if you are a hardcore mobile gamer - of course, NVIDIA Tegra Zone is still in its infancy, but it's definitely showing a lot of promise. Mind that
PlayStation Suite
is also coming soon, so it feels good to be a mobile gamer right now, eh?
Here's a list of the launched Tegra 2-powered devices -
the Motorola ATRIX 4G
,
Motorola XOOM
,
LG Optimus 2X
,
Dell Streak 7
,
ViewSonic gTablet
and
Toshiba FOLIO 100
. You can download NVIDIA Tegra Zone for free from the Android Market. The app is also available for non-Tegra phones.