Amazon Echo devices make up 63% of active smart speakers in the states, followed by Google's 17%
4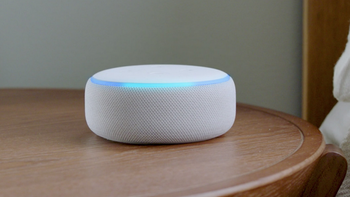 According to a new survey released today by Strategy Analytics, Amazon Echo models are responsible for 63% of the installed base of smart speakers in the U.S. That is followed by 17% for Google and 4% for Apple. Looking at individual models, the Amazon Echo makes up 23% of active smart speakers in the U.S followed by the low-end Echo Dot (see image at the top of this article). The latter owns 21% of the installed base in the states.
After the first two models, there is a large decline to the 8% share owned by the Google Home and the 7% attributed to the Google Home Mini. The Apple Home Pod makes up 4% of smart speakers installed in the U.S., and while
the device hasn't been the big winner that Apple was hoping for
, it does have a larger share than the 2% achieved by the Google Home Max. The Home Pod's percentage of the U.S. installed base also matches the share owned by other models including the Amazon Echo Spot, the Amazon Echo Show and the Amazon Echo Dot Kids Edition.
According to the survey, 54% of those surveyed selected smart speakers made by Amazon, Google or Apple. That leaves a wide open market for other brands, such as Bose, Samsung and Sonos. 88% of smart speaker owners own at least one Amazon Echo speaker, while 31% own at least one Google model. This indicates that consumers buying multiple speakers aren't necessarily sticking to one platform over another.
58% of consumers surveyed have two or more smart speakers at home. 62% of users have a unit in the family room, 41% have placed one in the bedroom and 39% set up a smart speaker in the kitchen. 12% have put a smart speaker in a bathroom.
For its report, Strategy Analytics surveyed 1,011 U.S. smart speaker users during July and August of this year.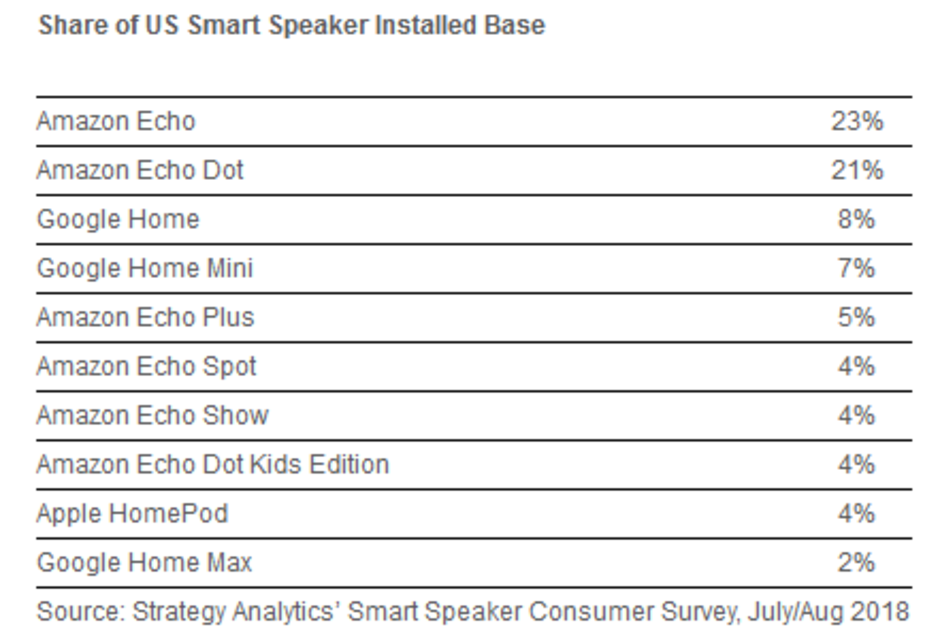 The Amazon Echo is the most popular smart speaker in the U.S.
Recommended Stories