MyLanguage Pro adds visual translation and more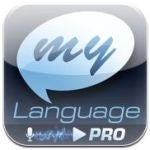 Does your work or play take you around the world? If you're not willing to commit to thousands of dollars worth of Rosetta Stone packages, myLanguage Pro for iOS might be what you're looking for. The app has been around for almost two years now, and is receiving some great improvements for 2011.
MyLanguage Pro is an app for iOS and Android which offers text-to-speech
translations
in many languages and individual dialects. Rather than give you a literal translation, the myLanguage community contributes suggestions, further refining translations to their original context. The app also offers quick and easy phrasebooks, as well as fun games to learn your language of choice.
The new version of myLanguage Pro will add new features like speech and visual translation. That means you can either record the unknown language, or use your device's camera to acquire the translation. It then uses multiple sources to give you the most accurate possible translation.
The visual translation is similar to
Word Lens
, but differs in that it requires an Internet connection to function. On the other hand, you will have many more language libraries at your disposal. MyLanguage Pro is available now for US$4.99, and will receive its improvements soon after the
Mobile World Congress
in mid-February.
source:
myLanguage