Motorola's Honeycomb flavored tablet displayed by Andy Rubin at conference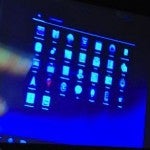 Google VP Andy Rubin had a big day at the D: Dive into Mobile conference. Not only did he get to show off the Google Nexus S, he also had with him a Motorola tablet. The tablet features a NVIDIA dual-core 3D processor, according to Rubin, and is powered by Honeycomb.
It is unclear how large the size of the display is. Motorola is expected to bring the Stingray tablet to market quite possibly before the end of the year, and the speculation favors a 10 inch screen for the Stingray. No matter the size of the screen, we are talking about Honeycomb and a dual-core processor. It sounds like a quantum leap from the Samsung Galaxy Tab's Froyo OS and 1GHz processor, but we will have to hold off on making comparisons until we see Motorola's tablet in action.
source:
Engadget
,
AllThingsD