Motorola may be ditching the bezel and going all screen
53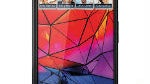 According to a new report, Motorola may be working on a smartphone that has no bezel at all and is just the smartphone display from edge-to-edge, which is a bold design move, and it may even have some practical benefits (though we're not really sure what those would be beyond having a bigger screen). *Note: the article image is a mockup, not a real image of said device. We don't know what the device will look like.
The mystery device is said to be part of an announcement between Motorola and Verizon which is planned for next week on September 5th in New York. The device is also rumored to be LTE ready, but really it would be far more surprising if a new Verizon phone didn't have LTE. If the date of the event sounds familiar, that's because it's the first day of the
Nokia World
conference, when it is expected that we'll see the first Windows Phone 8 devices unveiled.
It is interesting to note that this is the first big product announcement by Motorola since its acquisition by Google. Google has continuously said that Motorola would be kept separate, but this no-bezel idea does seem very Googley. There had been rumors that the Galaxy Nexus would have no bezel, and has come with a very slim bezel, in order to pack as much screen in as possible.