Motorola introduces two new accessories, the Moto Hint and the Power Pack Micro
2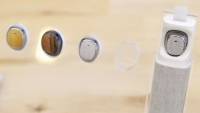 In the
midst of introducing the new Motorola Moto X
this morning, the manufacturer has unveiled a pair of accessories. The Motorola Hint and the Motorola Power Pack Micro are both useful tools for your
Moto X
. The Moto Hint won't be available until the fall, priced at $149.99. The Power Pack Micro can be purchased right now, for $39.99. Perhaps we should give you some more information about what each accessory does.
The
Motorola Hint
is a small Bluetooth earpiece that is designed to match the look of your Moto X. While tucked away, hidden in your ear, this accessory uses Moto Voice to give you directions, access your dialer, and much more. It is the perfect tool for those who feel the need to be using their Moto X while driving. But keep in mind that this does much more than your typical Bluetooth earpiece. It is Bluetooth on steroids. It will work on any Bluetooth enabled device, but only to make/take calls and contact Google Now or Siri. To use all of the fun features of the Moto Hint, you need to be using a Moto X, which will automatically pair with the accessory. The battery is good for 10 hours.
The second accessory is the
Motorola Power Pack Micro
. This device allows you to charge your phone on the fly, using the 1500mAh battery inside the accessory. Thanks to the built-in speaker, the Power Pack Micro can also serve as a phone or key finder. This accessory comes in a wide variety of colors, and works with any Bluetooth enabled device running Android 4.3 or higher, with the Motorola Connect app installed.
You can check out a video promo prepared for each device, by clicking on the video slideshow, below.
source: Motorola (
1
), (
2
) via
AndroidandMe