The new Moto X is official and available today for $99 on contract or $499 off contract
40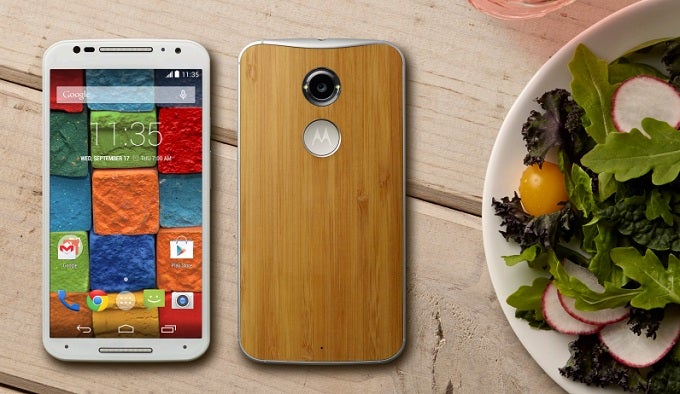 We have gotten quite a bit of information about the new Moto X before now, but this time we have the official word, which verifies a lot of what we had heard, but also brings some new additions which we didn't know about. First and foremost, it is not the Moto X+1 as has been the standard nomenclature, but rather just the new Moto X.
As mentioned, a lot of the
info we had heard
is correct. So, that means we are getting a 5.2-inch AMOLED display running at 1080p, a customized Snapdragon 801 clocked at 2.5GHz, 2GB of RAM, a 13-megapixel camera, and a 2300mAh battery. The device measures 72.4 x 140.8mm (~2.85 x 5.54-inches) and the width ranges from 3.8 mm (0.15-inches) at the edge to 9.9mm (0.39-inches) at in the middle, and it will weigh 144g (5.08oz). Sadly, the back logo is not a button, although it does look like one. But, the edge-to-edge design means that Motorola has been able to fit a slightly larger display in the same device width as the Samsung Galaxy S5.
It brings back features that we know and love, though it does rebrand some of them and tweak some as well. Active Display is now called Moto Display, and works much like before allowing you to "peek" at notifications, while only lighting up select pixels on the AMOLED display. But, it has been extended with Moto Actions, which uses infrared sensors above the display to give you gesture controls. This means the device will sense when your hand is reaching towards the device and will turn on the display; and, you can use a wave gesture to do things like silence a phone call or an alarm. Motorola says that this system is better than others because its IR sensors can capture gestures that are 4 times farther away than other systems (aka Samsung).
Touchless Controls are back, but have been rebranded as Moto Voice, and bring new customization options. No longer do you have to use the "OK Google Now" command to bring up the voice actions. Instead, you can customize the trigger phrase to anything you want. It also brings new commands to post a status to Facebook, or send a WhatsApp message.
Moto Assist is back and working the same as before to allow custom actions based on context like when you're driving, sleeping, at home, or in a meeting. The quick gesture to open the camera is also back, but once in the camera, there are some improvements. The biggest there is Highlight Reel which groups together pictures based on location or time, and automatically create a video collage set to music, which you can then share with others. It sounds a lot like one of Google's Auto Awesome creations, really. There is also a "best shot" feature, which will capture extra shots in the background, and pull another Auto Awesome type move to check for blur, smiles, or blinking and edit the pictures accordingly.
As far as the device itself, it is bigger, but Motorola says that it is still easy to use with one hand, and has been designed carefully to give the same sense of "balance" as the original. The device has almost no bezel, giving a great screen-to-device ratio, and has the same curved back as the original to make it feel secure in the hand. The device has a water repellent coating; and it adds one more microphone, bringing the total to four, to allow for better call quality. Also aiming to boost call quality is a new metal frame around the outside, which gives a more premium feel and doubles as an external antenna to boost reception. Motorola even takes a very late swipe at Apple by touting its Dynamic Tuning, which adapts to how you hold the device and optimize which part of the antenna to use.
There are a bunch of cool new accessories, which we'll hit in a separate post. The new Moto X will be available on contract for $99 or $499 off contract for the 16GB model, and will be available for purchase later today, September 5th on select carriers. Moto Maker has some changes, which again we'll cover in another article, and will be available on the new Moto X at an undetermined date in the future. In addition to the usual black and white options, certain stores will also carry the new black leather Moto X and the classic bamboo.
source: Motorola