Motorola Moto X Pure Edition unboxing
40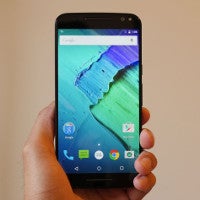 At long last, we finally got in the Moto X Pure Edition! The wait was long, there's no denying that, especially when we're told that they're experiencing '
technical difficulties
' with Moto Maker's ordering and shipping system (and supply issues as well). Regardless, it's here in the flesh and in our possession.
For this year's new smartphone, the Moto X Pure, aka the Moto X Style abroad, we're seeing a significantly larger footprint to its packaging. Right from the get-go, its larger-than-normal box size sticks out to us, seeing that prior phones have been relatively compact with their approach. Well, there's a good reason for that – and that's primarily due to the substantial size increase that the phone receives this year.
In looking at the box, there's an abstract deign towards the upper left corner of the front – while the Motorola logo and Moto X Pure name is plastered on the opposite corner. Flipping it around to the rear, we're given some information to what's included in the box. Uncovering it, we're instantly greeted to the Moto X Pure and the included bumper. Our particular one is a simple, clear bumper that protects the sides of the phon. Underneath all of that, we have the SIM tool removal adapter, usual set of documentation, and Turbocharger wall charger.
Interestingly enough, Motorola decided to make the wall charger as a single component, as opposed to being two pieces that consist of a microUSB cable and separate wall charger. We're not fans of this particular implementation, mainly because if anything goes bad with it, that means replacing the entire thing, which seems like it'll be more costly that just buying either the microUSB cable or wall charger separately.
Despite all of that, we're given a pleasant presentation for a high-end, high spec'd smartphone that's priced affordably at $400 starting. That cost alone is more than enough to intrigue many folks starving for an Android phone that for the most part, provides a stock Android experience. We'll be checking out the phone, so we're eager to see how this year's model improves over the last one.
Moto X Pure Edition unboxing