Motorola FLIPOUT stars on Jesse McCartney's music video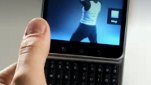 Motrorola's Facebook page today alerted us to the fact that the Motorola FLIPOUT appears on the music video for Jesse McCartney's song "Shake". The former Disney branded teen idol has certainly grown up as you can tell from the company that he keeps. But for those into cell phones, the highlight of the video starts at the 1:08 mark when the Motorola FLIPOUT makes its appearance.
The handset has been out for a bit over a month and is available from AT&T. And the great thing is that you don't have to be a rock star to afford the after rebate price of $79.99 with a signed 2 year contract. Having this affordable handset in a music video, it is apparent that while Jesse is growing up, Motorola is going after the teen market with this product placement.
source:
Motorola