Morgan Stanley analyst hints at NFC mobile payments coming in the next iPhone
28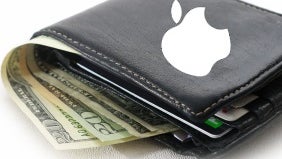 According to analyst firm Morgan Stanley, Apple might finally include an NFC chip inside the iPhone to provide for its alleged mobile payments service. Previously, CEO Tim Cook asserted that that Apple might enable mobile payments that take advantage of the iPhone 5s's TouchID fingerprint scanner for authorization, but didn't mention near-field communication support.
As NFC is becoming more widely adopted, Morgan Stanley analyst Craig Hettenbach thinks that the technology is reaching an "inflection point" driven by developments by Apple and other technological companies. Cupertino itself has a number of patents related to NFC, Wi-Fi, and Bluetooth developments for mobile payments. In addition, the company's new POS systems from VeriFone have NFC tap-to-pay support for compatible smartphones. Hettenbach also cited a report which asserts to Apple and mobile payment provider China UnionPay brokering a deal to make NFC purchases possible at Chinese POS terminals with the next iPhone. Additionally, Cupertino hired experts in NFC and mobile payments, which is a giveaway that the company is seriously working on something in this direction.
An NFC chip will be a welcome addition (or replacement) to the combination of Wi-Fi and Bluetooth signals which the company relies on for close-proximity wireless signals. With such a substantial list of clues on our hands, perhaps the iPhone's NFC support and rumored "iWallet" service is inching closer to existence.
via
AppleInsider